Attending an expo or conference can be an excellent way for your team to build relationships within the industry and stay in touch with the latest trends and innovations. With the right preparation, you team can come away with tons of new knowledge and valuable contacts.
What is BIOMEDevice and why should your team attend?
The BIOMEDevice Boston expo and conference is New England's premier medtech, design engineering, and embedded systems event that is bringing together the top companies in the industry from May 15-16, 2019. The event encompasses three expos and two conferences over a two-day span, all in one comprehensive meeting place.
If you're thinking about attending BIOMEDevice Boston this year, the benefits are clear. You'll be able to connect with more than 3,300 industry professionals to find potential business partners and build relationships with experts and suppliers who can help you overcome your biggest challenges on current and future projects. Free expo education sessions will allow you to gain a broader understanding of new technologies and processes in addition to hands-on training from experts in the medtech, manufacturing, and embedded design industries.
In order to take value away from the event, you'll have to do more than just show up. It is important to plan ahead to make sure that your team accomplishes all of the goals you hope to complete by attending, rather than becoming overwhelmed upon arrival.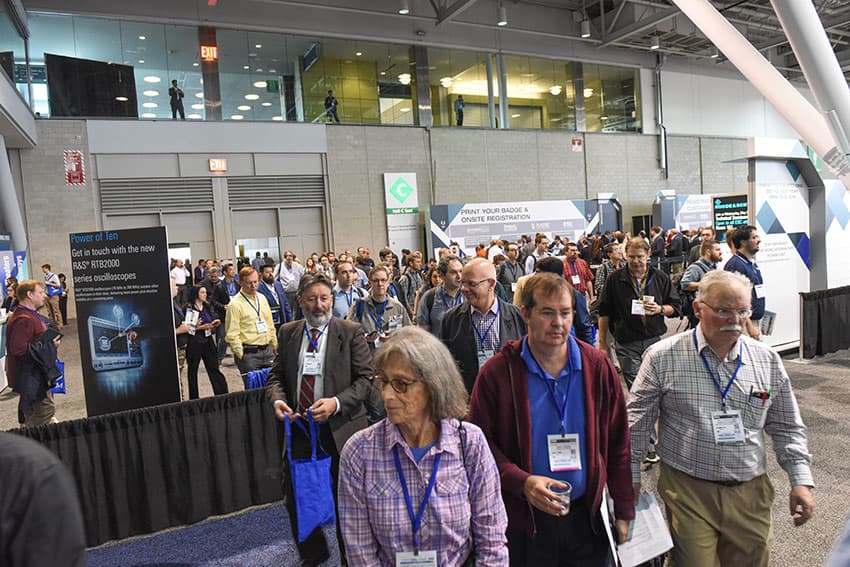 How to get the most out of BIOMEDevice
Here are a few tips to keep in mind to help you get the most out of the info-filled two-day event.
1. Get to know the area ahead of time.
If you are not very familiar with the area surrounding the convention center, it's a good idea to take a few minutes to explore your options for transportation before you arrive.
The Boston Convention and Exhibition Center (BCEC for short) is located at 415 Summer Street, Boston, Massachusetts. For those planning to drive to the event, the convention center offers valet parking at most events for $30. Visitors can also choose to self-park for $18 or $36 for oversized vehicles.
Public transportation is easily accessible throughout Boston. If you are planning to take the subway, or "the T" as it's known to locals, you should know that the convention center is located on MBTA's silver line at the World Trade Center stop. BCEC is also a fifteen minute walk from South Station, which provides local services via bus, subway, and commuter rail.
In addition, side sharing services like Uber and Lyft are also popular throughout the city.
2. Browse the list of exhibitors and prioritize your trip
Even though the event is two days long, with over 375 exhibitors, it will be near impossible to visit every booth.
A few days before the event, visit the exhibitor directory and take note of the companies you are interested in visiting, as well as their booth numbers. Look for exhibitors that are most relevant to your company, project, or business challenge and prioritize visiting these booths first.
If you are attending with a group of people, it might even make sense to split up to ensure that someone from your team has met with every one of the key exhibitors that you have identified.
On the same note, be sure to follow these steps for the conference portion of the event to decide which speakers you want to be sure to see. Take a look at the full list of speakers and write down the times each person is scheduled to speak so you don't have to worry about missing anything.
There is nothing worse than getting to the end of the day and realizing you missed out on something important, so take the time before the event to plan ahead to ensure nothing is missed.
3. Identify networking opportunities and make plans to meet.
One of the main reasons teams choose to attend an event like this one is for the endless networking opportunities that are presented. With so many industry professionals in one place, there are so many chances to build relationships with peers, suppliers, and even potential clients.
One downfall of these events though, is that there is so much going on that people's schedules tend to fill up quickly.
To avoid missing a valuable networking opportunity, consider reaching out to specific people or companies that you want to meet with and book some time in their calendar to get together. If you just try to catch them at the show you might be disappointed to find that they are too busy to have a meaningful conversation with you.
4. Make time for fun.
As exciting and valuable as it is, two full days of conferences and networking can end up being somewhat taxing on your team. It's worth it to plan some time into the schedule for people to take a breather and have some fun. Plus, if you're already devoting the time and resources to travel to Boston, it makes sense to take advantage of some of the other things the city has to offer.
There is something for everyone in Boston:
Foodies are in luck: The Boston Convention and Exhibition Center is located in the Seaport District, which is home to some of the best restaurants in the city, especially for seafood. Take a break and have a bite to eat at some of the coolest spots in the city.
Museum lovers

will have plenty to see throughout the entire city including the Museum of FIne Arts, Museum of Science, the Harvard Museum of Natural History, and more.
Sports fans

can take a trip the famous Fenway Park to catch a ball game during their stay. The Boston Red Sox will face the Colorado Rockies on May 14th and 15th at 7:10 pm.
History Buffs

will love the Paul Revere House, The Old State House, and the Freedom Trail, as well as many other historic sites that call Boston home.
If you are more interested in

shopping

you can take a stroll down Newbury Street or visit the Prudential Center for the best fashion finds.
No matter what you are interested in, you are bound to find something fun to do during your visit.
Have a Plan
One of the most important things you will need to do to get the most out of BIOMEDevice Boston 2019 is plan ahead. Following the tips above will help you ensure that your team has a valuable experience at the leading industry event of the year.
While you're at BIOMEDevice Boston 2019, be sure to come see us! Stelray Plastic Products is a full service plastic injection molding company for medical parts based in Ansonia, Connecticut. Get to know us and learn more about what we do by booking time during the show. See you at booth 956!